Welcome to BrickGun, designers and builders of the world's most realistic custom plastic building brick weapon models.
We specialize in creating the coolest, most realistic kits that can be built using genuine parts. Each model is life-sized, with accurate dimensions and details. They feature functioning mechanics such as triggers, hammers, slides, safeties and magazines so they not only look like the real thing, they work like the real thing as well.
Take a look at our models and see why we believe they are the best that can be made. Once you do, we think you'll agree that they are The Coolest Brick Weapons in the World.
05.14.2013




The BrickGun Book is Now on Sale



After over a year and a half of work, the BrickGun team and No Starch Press bring you The BrickGun Book!
232 full-color pages, covering complete instructions to 5 of our most popular models, the BG22 with Magazine, 92FS, 1911, Desert Eagle and MAC-11 Rubber Band Shooter. Each set includes a complete parts list and graphic bill of materials with part images, quantities, colors, names and part numbers. The book also provides expert construction tips to ensure the models are build correctly and sturdily as well as a history of BrickGun with insights into every one of our models and how they came to be from the designer's perspective.

No Starch is offering a 40% off "REPLICA" coupon code.
Additional information can be found No Starch's BrickGun Book Page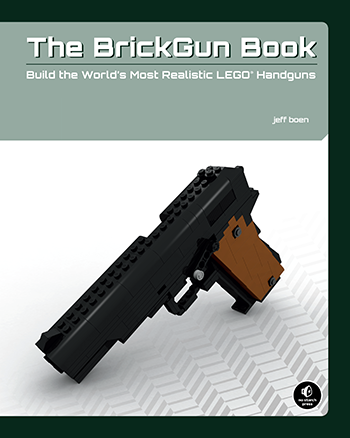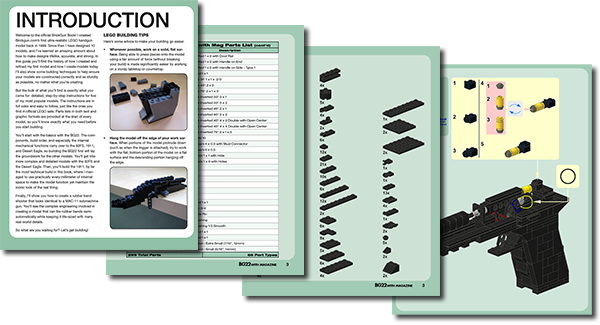 03.16.2013




International Shipping Rate Increase


All BrickGun international shipping rates have increased. This is due to the recent rate increase imposed by the USPS which went into effect on 1/27/2013. Due to an increase of over 41% on small, flat rate, priority shipments (which make up over 95% of our international orders), we have had no choice but to adjust our rates accordingly.
More information on the USPS rate increase can be found here and here.



02.11.2013




The BrickGun Luger P08 Now On Sale


The next BrickGun model, the Luger P08, is now available for sale!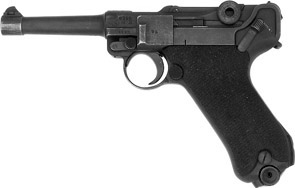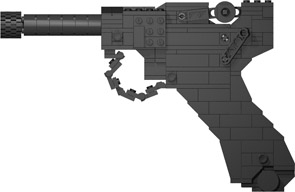 The BrickGun Luger features a working charging arm which cocks an internal hammer, a trigger which "clicks" when pulled and a functional safety which inhibits trigger movement when the model is cocked. It continues our line of ultra-realistic plastic building brick handguns and has been one of our most-requested models.
Get your model or building instructions now!



07.09.2012




The BrickGun Desert Eagle is back!


The BrickGun Team is proud to announce the re-release of our most-requested and best-selling model: The BrickGun Desert Eagle. Due to shortages on certain parts used in the model we have been sold out on them for some time, but they are again available for sale on our Purchases Page.
The updated version is a 2-tone design with lighter-colored grips which also incorporates a few small detail tweaks. All of the mechanical functions of our original Desert Eagle remain, just in an improved package.
All new instructions, updated to our 300dpi, easier-to-follow format, are also now available. This run may be limited, again depending on the availability of parts, so grab one while you can!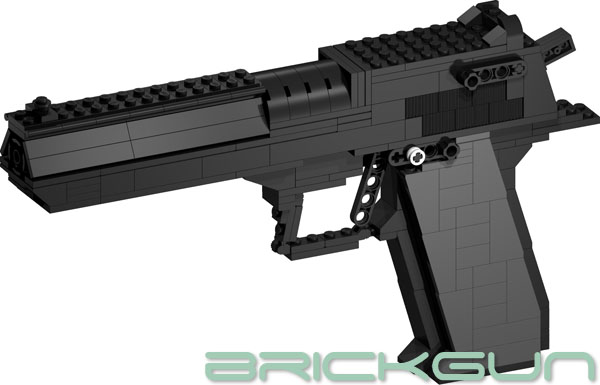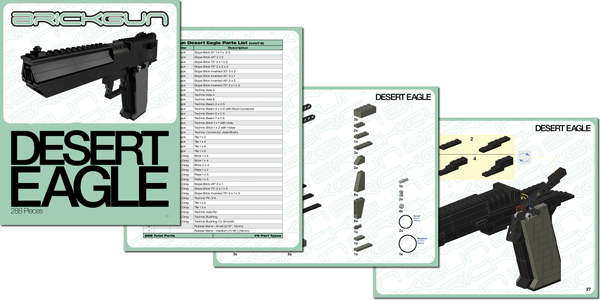 06.15.2012




BrickGun Featured on IGN's Weekly "Cheap, Cool, Crazy"


BrickGun models (specifically the BG22 with Magazine and the MP5) were featured in the "Lego Edition" of IGN's weekly cool gadget video. We're appreciative of the IGN staff for finding our models worthy of a nod (cooler than Harry Potter, some might say ;) ).
You can get a look at our models in action and see some of the working features in their video linked below.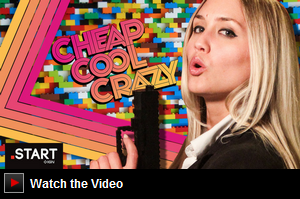 You can check out the video here.





02.25.2012




The BrickGun 1911 is Finally Released!


After years of tweaks to get the design up to our standard for realism and scale, The BrickGun Team is happy to announce the release of our 1911 pistol. The classic .45 handgun is finally given the BrickGun treatment. It features a working trigger, hammer, slide and slide lock. It was designed and built using our technique for creating the world's most realistic, full-scale handguns made with plastic building bricks.
Like all of our models, instruction downloads are also available (and The BrickGun CD will soon be updated to include the 1911 as well).
For more information, and to purchase a kit, visit The BrickGun 1911 page.





02.19.2012




Instruction Download Updates


The BrickGun team is currently in the process of updating and standardizing the format of all our instruction books. The new formats are high-resolution (300dpi) with both graphic and text part lists, parts for each step shown graphically and the removal of a significant portion of rare pieces from the model design. This is part of a larger project, to be announced later this year, but currently has the benefit of making the instructions easier to follow, easier to find parts for (if you don't purchase kits directly from us) and they will look better when printed.
The first set of updated instructions has now been released for the BrickGun BG22 with Magazine, with all the rest to follow in the next few weeks.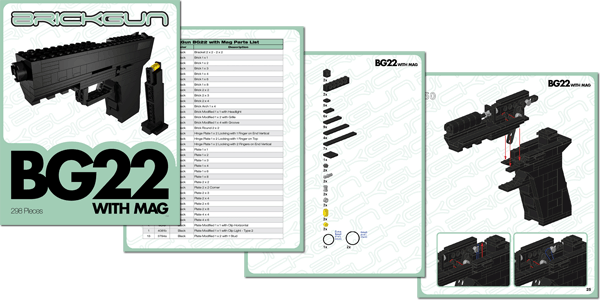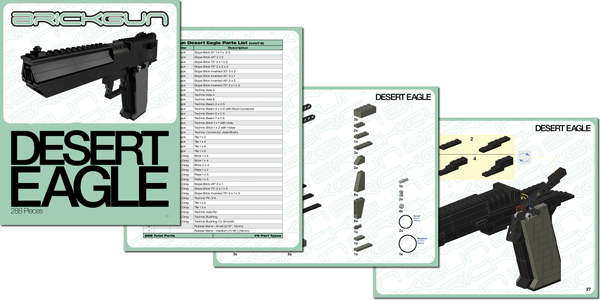 08.06.2011




Colt 1911 CAD First Look


The BrickGun team is still attempting to move forward with plans to market our Colt 1911. Here is a look at the CAD work for the first version. We're still not happy with the slide lock, so it's going to get at least one more revision before going on sale. This means it's still weeks or possibly even months away, but we decided to let a sneak peek slip out for everyone who has requested this model over the years. The worldwide shortage on parts continues, so the run may be limited, but at least some of you will get to be the lucky owners of an American classic.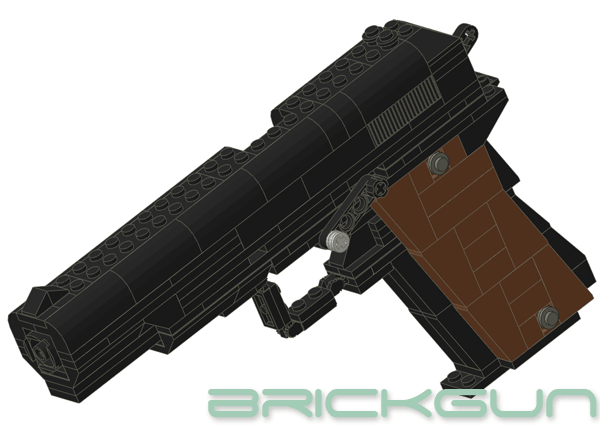 04.18.2011




BrickGun 92FS Construction Video


BrickGun customer Zeke created this awesome stop-motion anim showing the unbagging, sorting and construction of our 92FS.




07.11.2009




BrickGun to Discontinue Printed Instruction Shipping


Starting on July 11th, 2009, BrickGun will no longer ship printed instructions with our model kits.
This decision was made in an effort to reduce the amount of paper we consume and print (thereby reducing the number of trees destroyed and energy used), to reduce the shipping weight of our packages (thereby reducing the amount of fuel used by our shipping carriers) and to improve our overall "green" status.
Moving forward, we will be providing download links to our instruction .PDF files which can be printed or viewed locally by the buyer on his/her PC or Mac after purchase. These files can be easily opened/viewed/printed using Adobe's free Acrobat Reader software. The instruction downloads are the same documents that we have been selling for years and are identical to the pages we used to ship with our kits, but this way there is less energy used and less waste created in the world.